Want to meet some fellow bloggers? Hop on board any of these great blog hops!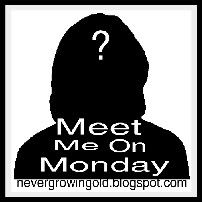 Questions from Meet Me on Monday:
1. Who would be your dream celebrity date?
Tim Daly!
He is sooo sexy!
Private Practice
Tim Daly in The Outsider
2. Food restrictions?
None!
3. How much time do you take to get ready in the morning?
25 minutes
4. Sausage or bacon?
Bacon
5. Do u Google, Bing orYahoo? G
oogle